| | |
| --- | --- |
| | OSWEGO SCHOOLS |
RETURN to MAIN MAPROOM
Address: Two Buccaneer Boulevard, Oswego, NY 13126
Nickname: "Buccaneers"
---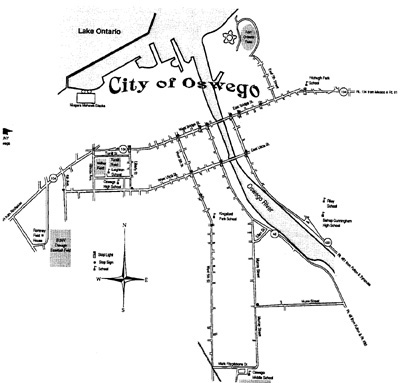 HIGH SCHOOL: Enter Oswego on Route 48 or Route 57. Take a left at the first stop light, Utica St., and proceed until you see the high school. For activities at LEIGHTON SCHOOL, take a right at the stop sign before the high school. Proceed one block and take a left down to the Leighton School site.
MIDDLE SCHOOL: Take Route 48 out of Fulton, proceed about 5 miles to the Village of Minetto. You will notice a bridge crossing the river in Minetto. Just past the entrance to the bridge you will see Benson Ave. where you take a left and proceed for 1.5 miles. At the end of Benson you pick up County Rt. 25, turn right and proceed for about 3 miles. As soon as you cross the railroad tracks, turn right on Mark Fitzgibbons Drive and you will see the Middle School.
.
This site is maintained by Custom Signs and Grafx Works. If there are any questions, suggestions, corrections, or comments they may be directed to CSGWORKS97@aol.com.

Check our site out at WWW.CSGWORKS97.COM. We specialize in SPORTS WEB SITES, PHOTOGRAPHY AWARDS, EVENT / GAME SCHEDULE CARDS and BAG TAGS for any type of sport, group or event.